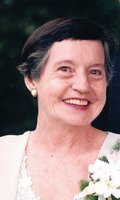 Shirley A. Alfieri
Smethport - Shirley A. Alfieri, 87, of Smethport, died Friday, (November 17, 2017) at Lakeview Senior Care & Living Center, Smethport.
She was born March 29, 1930 in Bellefonte, PA to the late Joseph R. and Alice (Crawford) Barnes Sr.
On July 16, 1955, in Bellefonte, PA, she married Dominic A. Alfieri, who preceded her in death on March 12, 2008.
Shirley was a graduate of Bellefonte High School and the Lock Haven Hospital nursing program. She received her license as a Registered Nurse on December 10, 1952. During her career, she worked at several hospitals, for a private physician and occasionally as a school nurse. She was elected to several terms on the Smethport School Board.
Mom enjoyed spending time in her garden, bird watching and was an avid reader. She traveled to Italy many times with her husband and children. On one trip, she met Mother Teresa, now Saint Teresa of Calcutta. She studied religion, especially the lives of Padre Pio and other Catholic saints. She was devoted to her family and cherished spending time with her children and grandchildren. She was famous for her fudge, homemade bread and rolls, bread-and-butter pickles, sugar cookies and lemon meringue pie. Shirley's kindness and selfless generosity to everyone she encountered was an inspiration to all.
She is survived by six children: Anthony J. Alfieri, Thomas M. Alfieri, James V. (Vicki) Alfieri, David P. Alfieri, Michael D. Alfieri (Susan Platko), all of Smethport and Mary Alfieri Richmond of Erie, PA; thirteen grandchildren: Alexandra M. Alfieri (Scott) Foust, Felicia L. Alfieri, Dominic R. Alfieri, Jonathan M. Richmond, Allison A. Richmond, Connor T. Alfieri, Preston K. Alfieri, Jocelyn K. Alfieri, April L. Alfieri (Todd) Willis, Steven D. Alfieri, Laura R. Alfieri, Cecilia I. Duda, Sophia E. Duda; one sister, Vesta B. Rimmey and numerous nieces and nephews.
In addition to her parents and husband, she was preceded in death by her daughter, Elizabeth A. Alfieri Duda on September 22, 2009 and five siblings; John C. Barnes, Robert R. Barnes Jr., Alice Jane Napora, Gertrude M. Flanigan and Sarah B. Heverly.
Visitation hours are Monday, November 20th from 4-7pm at Hartle-Tarbox Funeral Homes, Inc., 2 Bank St., Smethport, PA 16749. A Memorial Service will be held Tuesday, November 21st at 10:00 am at St. Elizabeth of Hungary Church, 307 Franklin Street, Smethport PA 16749. Committal will be in St. Elizabeth Cemetery, Smethport.
In lieu of flowers, memorials may be made to, Hamlin Memorial Library, 123 S Mechanic St., Smethport, PA 16749. Online condolences at www.hartle-tarboxfuneralhomes.com.
Arrangements are under the direction of the Hartle-Tarbox Funeral Homes, Inc., Smethport.