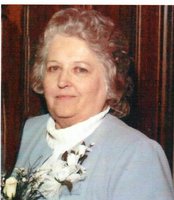 Ruth Jane Nelson
Smethport-Ruth J. Cook Nelson of Smethport, PA passed away peacefully on Friday December 1, 2017 in Smethport.
Ruth was born in Morrisdale, PA on November 2, 1926, the daughter of George and Martha Swisher. After the death of her parents, Ruth moved to Crosby, PA at the age of four (4) to live with her great Aunt & Uncle, Elizabeth and Charles Cook. She later had her name legally changed to Ruth J. Cook.
On September 4, 1948, in Crosby, Ruth married Carl H. Nelson who passed away on November 26, 2017.
Ruth worked at Sylvania Corporation in Emporium, PA before accepting a position at Lock Haven University as a Residential Hall Director in 1973 and retiring in 1997. One of the retirement gifts that she received from the university read, in part, "you have been the essence of unselfish service to over 5,000 students who enjoyed a never-ending source of love and support". This simple quote represents how our Mother lived her entire live. Her deep religious faith and trust God, combined with daily bible study, helped her throughout life.
Ruth lived for the "quiet times" with her family while enjoying her favorite television shows, crossword puzzles and, sharing lively banter with those she dearly loved. Her quick wit and humorous quips will always be cherished and remembered.
She is survived by one daughter, Debbi (Robert West) of Syracuse, NY and two sons, Carl David (Linda) of Reno, NV and Roger L. (Brenda) of Smethport, PA as well as beloved grandchildren, Erika, Heidi, Mary Ann, Steven, John, Brendi and Ahnna.
Ruth leaves behind many close friends in the Smethport and Lock Haven area, as well as, many of the past students of Lock Haven University that she considered as her "second family".
"Goodbye, I love you. Please be careful" were the words that her children, grandchildren and close friends always heard, without fail, when leaving Moms house.
A private funeral service with the family and friends will be held.
In lieu of flowers, Ruth requested that donations be made to local charities or, the Salvation Army which she supported for many years. Online condolences can be made at www.hartle-tarboxfuneralhomes.com
Arrangements are under the direction of Hartle-Tarbox Funeral Homes, Inc. of Smethport.