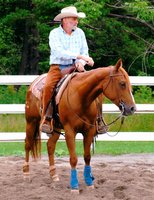 Ray G. Dart
Smethport - Ray G. Dart went to be with the Lord on Friday (January 5, 2018) after a long and courageous battle with cancer.
He was born Aug 1, 1947, a son of Lawrence and Sylvia Dart. He was a veteran of the U.S. Army and was stationed in Korea during the Vietnam war.
Ray was employed by Pennzoil for 26 years and then as co-owner of Phillips Dart Oil Field Services until his retirement in December 2012.
He devoted his life to the family business, Rainy Day Farm, and will be remembered for the special way he had with the animals he worked with.
He was a member of the American Quarter Horse Association, the National Cutting Horse Association and also raised Angus cattle. With the support of his family, Ray was able to show at several NCHA shows during the last summer of his life and was named the $2000 Limited Rider Champion for Region 6, encompassing the North East States. He was also an avid reader.
He is survived by his wife and best friend of 45 years, Nancy, his beloved step mother, Dorothy Scott Dart, three loving sons, Matt, Dan and John, three special daughters in law, Tabby, Shalee and Katie, and his "adopted" daughter, Amy. Seven grandchildren: Luke and Cali, Kaden, Kyler and Kenzie, Lanie and Halle, his sister in law and her husband, Andrea and Ray Herigodt, and several cousins.
Ray was preceded in death by his parents.
There will be no visitation or funeral services. A Celebration of Ray's Life will be held at a date to be announced.
Memorials, if desired, may be made to the Hamlin Memorial Library, Smethport or the American Cancer Society. Online condolences may be made at www.hartle-tarboxfuneralhomes.com.
Arrangements are under the direction of the Hartle-Tarbox Funeral Homes, Inc., Smethport.