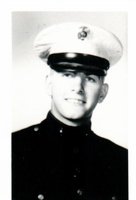 Richard D. Shirey
Smethport-Richard Duane Shirey, 82, of Bradford, PA, went to be with his Lord and Savior on Wednesday, January 31, 2018, while a resident of the Bradford Manor, Bradford, PA. Richard was born on July 24, 1935, in Punxsutawney, PA, the middle of three sons to William H. and Virginia Wineberg Shirey. He is survived by two brothers, Dr. Donald L. Shirey and his wife, Virginia, of Sarver, PA, and Dr. George S. Shirey of Shippenville, PA; two nieces, Gina Shirey and JoAnna Halenda; and two nephews, Jonathan Shirey and GeorDann Shirey; and by dear friend and recent caretaker, Joyce Hotelling, of Bradford.
Richard attended elementary school in Punxsutawney until his family moved to Smethport, PA, in 1947. He graduated from Smethport High School in 1953. He was a stellar athlete during high school. He was selected to the Allegheny Mountain League football all-star 1st team in 1953 as a running back. As a member of the track team, he held the record for the half-mile run for many years. In addition, he was a member of the mile relay team which won several district titles and advanced to the state meets held at Penn State.
In 1954 he enlisted in the Marine Corps. He was schooled as an aircraft electrician on jet fighter aircraft before being stationed at the El Toro Air Base in Calif. There he attained the rank of Sergeant and was discharged in 1957.
In 1958 he enrolled at Slippery Rock State College to major in education. While there he was a four-year letterman in cross country and track. His success was unparalleled in his time frame. He held several school records for distance running and was named All-American in Cross Country all four years. His greatest success was a third place finish in the National Cross Country meet held at Wheaton, Illinois. In 1959 he traveled to San Jose, California, to participate in a distance runners training center in an attempt to qualify for the 1960 Olympics. The capstone of his athletic career at Slippery Rock was to be elected to their Athletic Hall of Fame.
He graduated in 1962 with a degree in Health and Physical Education and began a teaching career in Punxsutawney. After two years he returned to Smethport where he taught for 26 years. He obtained additional graduate credits from Clarion University and Messiah College, specializing in history which became his teaching forte until retiring in 1991.
While he was living in the Smethport area, he attended the Free Christian Evangelical Church and the Crosby Methodist Church. In Bradford he attended the West Branch Methodist Church.
He spent many a summer weekend playing sand-lot baseball with the Crosby MudHens of the original McKean-Elk League and later the Alle-Cat League. He also enjoyed fishing for native brook trout in the small tributary streams of Potato Creek, either with his brother George or his good friend Phil Kennedy. He enjoyed picking wild huckleberries and blackberries in season. He was a Civil War history buff and loved reading Zane Grey western novels. Another pleasure was his early morning 2-mile walk around the town of Smethport, and after moving to Bradford, around the Pitt Campus there. In later years he became very active in square dancing, becoming affiliated with the "Dancing Shadows Club" and "Belles 'n Beaus", where he met his friend Joyce Hotelling who became his dancing partner for many years. Square dancing and clogging were two of the great joys of his life.
Richard was preceded in death by his parents.
Visitation will be held on Friday, Feb. 2, from 2-5 PM in the Hartle-Tarbox Funeral Homes, Inc., 2 Bank St., Smethport, PA. Visitation will also be held on Saturday, Feb. 3, at the Shumaker Funeral Home, 107 W. Main St., Big Run, PA, from 2-3 PM. Funeral services will be held at 3 PM in the funeral home. Burial will be in Bowers Cemetery, Gaskill Twp.
Memorials, if desired, may be made to a charity of the donor's choice. Online condolences may be made at www.hartle-tarboxfuneralhomes.com or www.shumakerfh.com.
Arrangements are under the direction of the Hartle-Tarbox Funeral Homes, Inc. and the Shumaker Funeral Home, Inc.