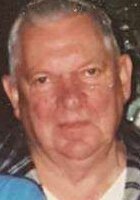 Milton O. Stebbins
Port Allegany - Milton O. Stebbins, 81, of, Port Allegany, died Friday (March 23, 2018) in the Olean General Hospital, Olean.
He was born Jun 1, 1936 in Coudersport, a son of Leon and Eva McFall Stebbins, On Jan. 28, 1956 in Port Allegany; he married Betty Crowe, who survives.
Mr. Stebbins was a Maintenance Supervisor, employed by Pittsburg Corning, Port Allegany, PA, retiring in 2003 after 47 years of service.
He was a life member of both the Star Hose Co #1of Port Allegany and the
Keating Sportsman Club of Smethport PA. He was also a member of the VFW Post 6391of Port Allegany
Milton enjoyed hunting and most of all spending time with his family
In addition to his wife, he is survived by
Two daughters: Catherine (Mick) O'Brian of Smethport, PA and Corinne Lewis of Portville, NY,
One son: Jeffery (Crystal) Stebbins of Ocean Side, CA
Thirteen grandchildren, Nathan O'Brian, Kylee (Brian) Little; Ashley (Shane) Rice Joshuah Lewis, Jeffery, Andrew, and Mark Stebbins; Hunter and Sierra Brandt; Shannon Yeager, Bryon Stebbins, and Mary and Margo Stebbins
Six great grandchildren
Two daughters-in-law, Karen Stebbins and Linda Stebbins.
He was preceded in death by his parents, two sons Mark and Brian Stebbins and one brother Marlin Stebbins
There will be no visitation. Friends are invited to attend a memorial service on Wednesday, March 28 at 11:00 am in the Hartle-Tarbox Funeral Homes, Inc., 105 N Main St.,, Port Allegany, PA with the Rev James Kazimer, Pastor of the First Church of God of Eldred, officiating.
Burial will be in the Grimes Cemetery, Port Allegany, PA.
Memorials may be made to Port Allegany Ambulance Association, Port Allegany, PA 16743 Or
Star Hose Co #1/ Port Allegany Fire Dept., PO Box 295, Port Allegany, PA 16743 the grimes Cemetery Association, PO Box 383, Port Allegany, PA.
Online condolences may be made at www.hartle-tarboxfuneralhomes.com.
He was preceded in death by his parents, two sons Mark and Brian Stebbins and one brother Melvin Stebbins