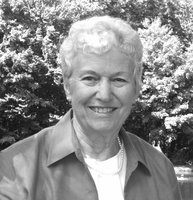 Carol Cummings Ball
SMETHPORT — Carol Jean Cummings Ball, age 87, of Smethport, passed peacefully at home on Tuesday (March 20, 2018).
Carol had a passion for life. She was ageless and remained active and dedicated until her final day.
Born in Olean, N.Y., on March 9, 1931, she was the first child of Vern and Florence Gaspar Cummings. She was raised in Eldred. Her interest in music began at a young age, developing her voice, learning the piano, organ and clarinet. While still a student at Eldred High School, Carol became the organist for the Eldred Methodist Church. A proud 1952 graduate of Mansfield State Teachers College, majoring in music, Carol did post-graduate work at Carnegie Tech.
In 1952, she started her career teaching elementary music in the Smethport School District. She met Bernard K. Ball, of Smethport, on a blind date and they married on June 26, 1955. Together, they raised four children. Bernard and Carol were married nearly 55 years prior to his death on May 11, 2010. She was a loving wife, and in the later years of their marriage was a devoted, tireless caregiver.
Carol became affiliated with the music program at the Smethport United Methodist Church in 1955, leading the youth choirs. Shortly after she became the director of music, a position she held until her passing. During her tenure, she led the sanctuary choir, various youth choirs and the bell choir. Her sanctuary choir has always been well regarded in the area and has participated in many local choir festivals.
As the long-time accompanist of the Smethport Swinging 70s show choir, she spent three weeks with the group as they toured and performed in Poland in 1974 as part of a cultural exchange program. Over the years she directed community choirs, including the Smethport Sesquicentennial Community Choir in 2013, for which she wrote the Sesquicentennial theme song "It's Time to Come Home to Smethport." She very much enjoyed being a member of the Coudersport Consistory Passion Play chorus for 57 years, and was proud her sons joined the choir as well. Since the 1970s, Carol participated in, and was active on the board of, the summer music and worship workshop at Olmsted Manor in Ludlow. Carol also wrote the theme song for Olmsted Manor.
Following her retirement as the elementary music teacher in Otto-Eldred in 2000, Carol became actively involved in additional activities, including Phoenix Chapter No. 15, Order of the Eastern Star, Red Hats Society of Smethport, and the McKean Chapter of Pennsylvania Association of School Retirees (PASR).
Her commitment to her children, grandchildren, and new great-grandchildren, was always present, always felt and will be forever ingrained in their lives. Carol was creative and talented. She was an accomplished seamstress and baker, who will also be remembered each Christmas by the countless people for whom she knitted Christmas stockings. Carol enjoyed gardening, tending to her blueberry patch and taking care of her lawn. She treasured time shared and the memories made at beloved Camp Beechwood, traveling in Europe and the U.S. with family, and working out with "the girls" at the Smethport Wellness Center. Carol also spent a great deal of time with her daughter in Pittsburgh.
Carol lived by the mantra "I'm going to be a kid until I'm 100, then I'll think middle age." She lived life to the fullest, never slowed down and will remain an inspiration to many.
She is survived by her sons, Bernard E. "Ben" (Barbara) Ball, David S. Ball and Thomas E. (Kimberly) Ball, all of Smethport; daughter Susan E. Ball of Pittsburgh; grandchildren Daniel and Alex of Pittsburgh, Kristine of Port Allegany, Zachary (Ashley and great-grandson Lucas) of Derrick City, Stephanie of State College, Sydnee of Smethport, and Nicole Windsor (Jeremy and great-grandsons Miles and Weston) of Boise, Idaho. Also surviving are her two brothers James (Gail) of Eldred and The Villages, Fla., and Allan (Julia) of Dayton, Ohio; as well as nieces, nephew and cousins.
A memorial service will be held on April 7th at the United Methodist Church of Smethport. The family will receive relatives and friends beginning at 10 a.m., with an Eastern Star memorial service at 11:45 a.m. and the memorial service directly following at noon.
Memorials may be made to the United Methodist Church of Smethport (601 W. King St., Smethport, PA, 16749), the Smethport Memorial Recreation Center or the Rosehill Cemetery Association (both at PO Box #1503, Smethport, PA, 16749) or the charity of the donor's choice.