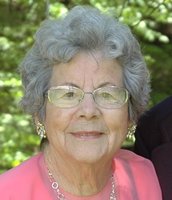 Marion A. Borowski
Marion Alice Borowski, 95, of Port Allegany, died April 15th in Sena Kean Manor, Smethport, where she had been a resident for the last two years.
Born, September 26, 1922 in Park Ridge, NJ, she was a daughter of Arthur C. and Theresa H. Bruck Patton. On June 27, 1953, she married John Peter Borowski, (who died August 10, 2014.)
Mrs. Borowski graduated from Park Ridge, NJ High School in 1940. She was a secretary for many years, working at Carborumdum Co., Niagara Falls, NY; Cornell University, Ithaca, NY; as well as Idle Hour Stock Farm, Lexington, KY. She came to this area in 1946. She worked 7 years as secretary-assistant to her brother, Veterinarian Dr. H.W. Patton, until her marriage. She also worked for 11 years as Parish Secretary for St. Gabriel's under Fr. Paul A. Schill.
Mrs. Borowski was a member of St. Gabriel's Catholic Church, as well as the Catholic Women's Club where she served as CWC Funeral Dinner Coordinator from 1978 to 2008. She served as secretary of the Tuesday Night Ladies Bowling League in Port Allegany for 17 years as well as the Ladies City Bowling Association secretary for 15 years.
She is survived by three daughters, Nancy (Thomas) Recker, Lima, OH; Janice (Thomas) Himes, Mt. Alton, PA,; Teresa (Dirk) Taylor, Findlay, OH, and one son, Steve (Denae) of Bradford.; 10 grandchildren – Jamie (Henry) Troese; Josh (Tara) Layman; Ryan Recker; Michael, Nicholas, Luke & Faith Taylor; Morgan (Kevin) Cannon, Tyler (Christina) Borowski and Connor Borowski.; 4 great-grandchildren and one sister, Patricia Hallett, Cincinnati, OH.
In addition to her parents, she was preceded in death by 3 sisters, Agnes Demarest, Katherine Allison, and Dorothy Greene, and 2 brothers, Arthur Patton and Dr. Herbert Patton
Visitation will be held on Thursday, April 19, 2018 from 4-7PM at Hartle-Tarbox Funeral Homes, Inc., 105 N. Main St., Port Allegany, PA. A Christian wake service will be held at 3:30 Thursday in the funeral home. A Mass of Christian Burial will be held at 10:00 am Friday, April 20, 2018 in St Gabriel's Church with the Rev. James Campbell, Pastor, as celebrant. Burial will be in the St. Gabriel's Cemetery, Port Allegany.
In lieu of flowers, memorials may be made to St. Gabriel Catholic Church or the Activities Center at Sena Kean Manor.
Online Condolence May Be Made At, www.hartle-tarboxfuneralhomes.com.
Arrangements are under the direction of the Hartle-Tarbox Funeral Homes, Inc., Port Allegany.
Preceded in death by her parents, husband two brothers Arthur and Herbert Patton andthree sisters Agnes Demarest, Katherine Allison and Dorothy Greene.