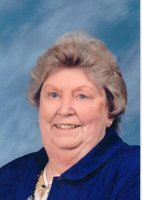 Eileen H. McKean
Smethport - Eileen H. McKean, 84, of Smethport, passed away Tuesday (October 23, 2018) at the Lakeview Healthcare & Rehabilitation Center, Smethport.
She was born Oct. 28, 1933 in Port Allegany, a daughter of Norman and Theresa McMahon Hull. On June 30, 1973, at the St. Elizabeth Church, Smethport, she married James A. McKean, who died on Nov. 11, 2015.
Mrs. McKean was a graduate of Smethport High School and received her Bachelor of Science in elementary education from Clarion University in 1956. Her graduate work included Penn State, Ball State, Moore Head State, University of Pittsburgh, and The University of Denver.
Eileen taught in Emporium, Port Allegany, the Oregon College of Education, the Asmara Teacher Institute in Ethiopia, the Creative Center in Smethport as the administrator, worked with the Smethport Head Start program as the director and ultimately retired as a kindergarten teacher from the Smethport School District in 1993.
She was a member of the McKean County Historical Society as president and vice-president for many years, the National Education Association as an elected Director, the Red Cross Board of Directors, The Depatment of Classroom Teachers as secretary and president, PSEA executive board and regional president, McKean County Fair Board, McKean County 4-H leader for many years, and The American Legion for 71 years.
Eileen was very active with St. Elizabeth of Hungary Church in Smethport as a Eucharistic Minister, prayer chain chairman, religious education teacher, and the Womens group (former Catholic Daughters of America).
She is survived by:
One son: Charles E. McKean of Ashtabula, OH
One daughter: Colleen M. (David) McClain of Smethport
Four grandchildren: Derek and Coryn McClain and Devon and Ashbei McKean
And many nieces, nephews and great nieces and great nephews.
In addition to her parents and husband , she was preceded in death by one brother, Norman Hull, one sister, Alice Irons, and a niece Theresa Dixon.
Visitation will be held on Friday from 2-4 and 6-8 PM at Hartle-Tarbox Funeral Homes, Inc., 2 Bank St., Smethport, PA. A Mass of Christian Burial will be held on Saturday at 11 AM in St. Elizabeth of Hungary Church, Smethport, with the Rev. Vincent P. Cieslewicz, pastor as Celebrant. Burial will be in St. Elizabeth Cemetery, Smethport. A Christian Wake service will be conducted in the funeral home on Friday at 3:30 PM.
Memorials, if desired, may be made to St. Elizabeth Church, 307 Franklin St., Smethport, PA 16749 or the McKean County Historical Society, 502 W. King St., Smethport, PA 16749. Online condolences may be made at www.hartle-tarboxfuneralhomes.com.
Arrangements are under the direction of the Hartle-Tarbox Funeral Homes, Inc., Smethport.