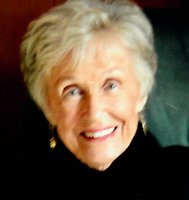 Marilyn J. Hansen
Port Allegany - Marilyn J. Hansen, 89, of Smethport, passed away Monday (October 29, 2018) in UPMC-Cole, Coudersport, PA.
She was born June 4, 1929 in Jamestown, a daughter of Berger and Esther Johnson Engblom. In 1947, in Port Allegany, PA, she married Glenn R. Johnston (deceased). In 1974, she married Hal Hansen.
Mrs. Hansen was a graduate of Port Allegany High School and St. Francis School of Nursing in Olean, NY. Marilyn worked at Port Allegany Hospital, Olean General Hospital, St. Francis Hospital, and Charles Cole Memorial Hospital. She also worked at Sena Kean Manor in Smethport until her retirement. She worked in many areas of the medical field throughout her tenure.
Marilyn loved her family. She also enjoyed shopping for purses and jackets, and playing cards with her friends. She especially loved the game of golf. Throughout her life, she held memberships to Smethport, Pinecrest (Brookville), and Pine Acres Country Clubs.
She was a member of St. Gabriel's Church; a church she loved. She participated in Catholic Women's Club, 500 card club, and the Republican Women Club. She was a Red Cross driver and delivered Meals on Wheels.
She is survived by
Two sons: Thomas (Kathy) Johnston of Wellsboro, PA and Bruce Johnston of Naples, FL
Two daughters: Nancy (Mike) Sample and Leslie Johnston both of Smethport, PA
Four grandchildren: Matthew (Amanda) Gustafson, Rachel (Scott) DeBruycker, Mark Johnston, and Felicia Evan
One great-grandson: Canon Gustafson
Two step great-grandchildren: Mason Anthony and Loralie Evan
Four nieces: Karyn (Tom) Bosko, Pam (Mike) LaTone, Pam (Bud) Kellner, and Carol Principe
She was preceded in death by her parents, husband, brother Kip Engblom, and one sister Evelyn Astle.
Visitation will be held on Friday, November 2, 2018 from 7-9 pm at Hartle-Tarbox Funeral Homes, Inc, Port Allegany. Visitation will start with a Christian Wake Service at 6:30 pm.
A Mass of Christian Burial will be held Saturday, November 3, 2018 at 11:00 am in St. Gabriel Catholic Church, Port Allegany, with the Rev. James Campbell, Pastor as Celebrant. Burial will be in Fairview Cemetery.
Memorials may be made to the Hamlin Memorial Library, Smethport or St. Gabriel's Church, Port Allegany or the Patterson Cancer Center, Coudersport.
Online condolences may be made at www.hartle-tarboxfuneralhomes.com.
Arrangements are under the direction of the Hartle-Tarbox Funeral Homes, Inc. -Port Allegany, Port Allegany.