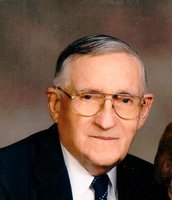 Glenn D. Austin
Smethport – Glenn D. Austin, 90, of East Valley Road, Smethport, passed away Sunday (August 25, 2019) surrounded by his loving family.
He was born April 26, 1929 in Friendship, NY, a son of Frank and Lela Mae Porter Austin. On November 12, 1949, in West Clarksville, NY, he married Beatrice G. Burrows, who died on April 19, 2019.
Mr. Austin worked as a crane operator for Dresser-Rand of Olean, NY. He also had worked on the Kinzua Dam during its construction.
He was a member and past master of the Northern Star Lodge F&AM #555 of Duke Center, a past board member of the McKean County Fair, and a member of the Coryville Church of Faith.
He is survived by:
Four daughters: Kathy (Ron) Silvis of Eldred, Donna (Jim) Bly of Bradford, Becky (Mark) Nodler of Olean, and Penny (Jim) Lundgren of Eldred
One son: Rick (Rhonda) Austin of Smethport
Twelve Grandchildren: Samantha (Gary Budinger) Silvis, Sonja (Barry) Bacha, Tara (Tom) Reid, Ryan (Rachael) Ours, Kristen, Adam and Sarah Nodler, Nichole Austin, Colby (Andrea) Austin, Marcy (Steve Warren) Flickinger, Candi (Paul) Grizwold, Betty (Chris) Smith
Sixteen great-grandchildren and many nieces and nephews
In addition to his parents and wife, he was preceded in death by seven brothers: Hanford, Frank, Howard, Harold, Ellsworth, Milford and Robert, three sisters: Lena, Letha and Jenny. One grandson, Brent Silvis, one great-grandson, Vincent Silvis, and one granddaughter in law, Deborah Silvis.
At the family's request, all services will be held privately. Burial will be in Lamphier Cemetery, Eldred. Masonic services will be conducted by the Northern Star Lodge #555 F&AM of Duke Center.
Memorials, if desired, may be made to the Coryville Church of Faith, 1913 Moody Hollow, Eldred, PA 16731, or the United Methodist Church of Eldred, 26 Main St., Eldred, PA 16731. Online condolences may be made at www.hartle-tarboxfuneralhomes.com.
Arrangements are under the direction of the Hartle-Tarbox Funeral Homes, Inc., Smethport.