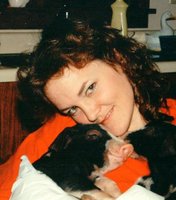 Susan Irene Clark
Smethport - Susan Irene Spittler-Clark, 56, of Smethport, passed away on Wednesday (September 11, 2019) in the UPMC-Presbyterian Hospital, Pittsburgh.
She was born Oct 12, 1962 in Bradford, a daughter of Edwin Lyle and Mary Elizabeth Rumsey Spittler.
Ms. Clark was a graduate of Eisenhower Jr./Sr. High School and attended cosmetology, dental hygenist and CNA schools. She also had her EMT certification.
She ultimately worked as a caregiver in the area.
Susan loved farming, family and all animals. She enjoyed being outdoors and spending time with her two dogs, "Boog" and "Max". She loved singing, dancing and spending time with family and friends. She was willing to lend a helping hand to anyone in need.
She is survived by two daughters: Julia (John) Amon of Mercer, PA and Shawna (Corey Wilfong) Clark of Smethport
One brother: Dana (Teri) Spittler of Smethport
One sister-in-law: Cheryl Spittler of Bradford
One Uncle: Dr. David (Katy) Rumsey of Smethport
One Aunt: Connie Spittler of Limestone, NY
One grandson: Caden Wilfong
One granddaughter: Kya Wilfong
And several nieces and nephews
In addition to her parents, she was preceded in death by her brother, Edwin L. Spittler, Jr., two uncles: Charles and Milton Spittler, and her life companion and love: Walter Miller.
A Celebration of Susan's Life will be held on Sunday, Sept. 22 at the American Legion; John Berg Post #976 of Crosby, PA, beginning at 1 PM. Burial will be in Norwich Cemetery, Colegrove.
Memorials, if desired, may be made to the Norwich Twp. Volunteer Fire Dept. of Crosby, PA. Online condolences may be made at www.hartle-tarboxfuneralhomes.com.
Arrangements are under the direction of the Hartle-Tarbox Funeral Homes, Inc., Smethport.