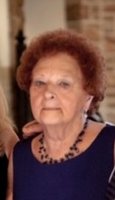 Erma Spaulding
Rew-Erma P. Spaulding, 86, of Wolf Run Road, Rew, passed away Saturday, December 21, 2019 at
Bradford Regional Medical Center after a brief illness.

Born December 18, 1933 in Concord, NY, she was the daughter of the late Kenneth J and
Ernestine (Lightcap) Dodge. On July 8, 1959 in Concord, NY, she married Floyd N. Spaulding, who passed away, January 2, 1989.

She attended school in East Concord, NY. She retired from W.R. Case and Sons Cutlery Co as
an inspector in 1997 after 22 years of service.

She was a bingo fanatic, enjoyed game shows and reality TV. She was also an avid Buffalo
Bills fan and also enjoyed traveling the world with her family.

She is survived by six children, Daniel (Karen) Spaulding of Crossville, TN, Robert Spaulding of
Rew, Brian Spaulding of Miami Beach, FL, Beth Ann (Lew) Bennett of Oak Hill, VA, David
(Cyndy) Spaulding of Sarasota, FL and Nancy (Michael) Sipko of Bradford; seven
grandchildren, Jodi (Lisa) Spaulding, Jessica Mackey, Geoffrey (Morgan) Spaulding, Jason
Bennett, Lauren (Kevin) Thompson, Jeremie (Alicia) Sipko and Damian (Jeffrey) Sipko; six great
grandchildren; a brother James (Kitty) Dodge; a sister Sherry (Gene) Szewczykowski and
several nieces and nephews.

Private visitation and services will be held for the family. A celebration of Erma's life will be
held in the summer. Burial will be in Fairview Cemetery, Springville, NY.

Memorial contributions can be made to the American Cancer Society or the charity of the
donor's choice. Online condolences may be made at www.hartle-tarboxfuneralhomes.com.

Funeral arrangements are under the direction of Hartle-Tarbox Funeral Homes, Inc.,
Smethport.