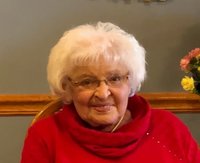 Charlotte E. Dean
Smethport - Charlotte Ellen Dean passed away on Saturday, February 22, 2020 surrounded by her loving family. Charlotte was the cherished mother of Ed, Lori, and Bill, and the adored "Butatas" and "Grams" of Craig, Cory, Justin, Zach, Lauren, Michael, Brian, and Matthew.
Born Charlotte Ellen Herzog, November 5, 1928, she was the daughter of Charles and Erma (Kessler) Herzog. On January 11, 1948, she married George Eugene Dean. They resided in Smethport until her passing.
Charlotte was a bookkeeper for her husband's company, George Dean Bulldozing, but her biggest passion in life was her family. She was always the happiest when she was with her family and especially her grandchildren. Her unselfish, generous nature was to make sure everyone was always cared for. She loved to bake her amazing fruit pies, not only for her family, but for everyone, including her doctors and all the sales associates at Bon Ton. She loved to play cards and board games especially when her sisters visited.
She is survived by her sons, William (Barbara) Dean of Coral Springs, FL, George Edward (Rosemary) Dean of Smethport, PA and her daughter, Lori (Todd) Smith, also of Smethport. Her grandsons, Michael (Robyn) Dean, Brian (Jenn) Dean, Matthew (Angele) Dean, Craig Dean, Cory Dean, Justin (Lauren) Smith and Zachary Smith; her great-grandchildren, Tyler, Maria Lauren, Ashlyn, Emily and Dexter.
She is also survived by her sisters, Martha (Sam) Oxentine and Philinda Scott, along with many nieces and nephews.
Preceding her in death was her husband, George, in 1996, her daughter, Carol Rebecca Dean in 2018, her son, James Lester Dean in 1984, her sisters, Aletha Mays, Rena Vicere, Lelia Shonts, Cinderella Taylor and Hazel Smith, along with a brother, Gilbert Herzog.
Visitation will be held on Monday, Feb. 24, from 6-8 PM at Hartle-Tarbox Funeral Homes, Inc., 2 Bank St., Smethport, PA, where funeral services will be held on Tuesday, Feb. 25, at 11 AM with the Rev. Max Simms, officiating. Burial will be in Rose Hill Cemetery, Smethport.
Memorial contributions may be made to the American Cancer Society (www.cancer.org) or a charity of the donor's choice. Online condolences may be made at www.hartle-tarboxfuneralhomes.com.
Arrangements are under the direction of the Hartle-Tarbox Funeral Homes, Inc., Smethport.