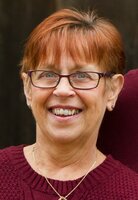 Susan D. Rankin
Port Allegany - Susan D. Rankin, 66, of Port Allegany, passed away Friday (December 10, 2021) at UPMC-Susquehanna, Williamsport.
She was born March 11, 1955 in Port Allegany, the daughter of Llewellyn "Pick" and Shirley (Grimes) McDowell. On April 5, 1975, in Port Allegany, she married James E. Rankin, Jr., who survives.
Mrs. Rankin was a secretary for Bidwell Chevrolet then Kightlinger Motors. Sue then was the owner/operator of ABC Restaurant and Motel, Burtville, for 11 years. Most recently, she worked at the S.W. Smith Library of Port Allegany.
Sue enjoyed sewing, crafting, reading and tending her flower garden. Above all, she loved spending time with her grandchildren.
In addition to her mother, Shirley, and husband, Jim, she is survived by:
One daughter: Brianne (Marc) Riblet of Mineral Ridge, OH
One son: Travis (Stephanie) Rankin of Port Allegany
Six grandchildren: Maura, Evelyn and Ivy Riblet and Hailee, Jackson, and Lyndee Rankin
One sister: Ellen (Tom) Buchenauer of Port Allegany
One brother: Roger (Teri) McDowell of Port Allegany
Several nieces and nephews
In addition to her father, she was preceded in death by two grandsons, Wyatt and Levi Rankin.
Visitation will be held on Wednesday, Dec. 15 from 2-4 and 6-8 PM at Hartle-Tarbox Funeral Homes Inc., Port Allegany. Funeral services will be held Thursday, December 16 at 11AM from the funeral home, with Rev. Matthew Guncheon, officiating. Burial will be in Grimes Cemetery, Port Allegany.
Memorials may be made to Port Allegany Fire Department, Port Allegany, PA or S.W. Smith Library, Port Allegany, PA. Online condolences may be made at www.hartle-tarboxfuneralhomes.com.
Arrangements are under the direction of the Hartle-Tarbox Funeral Homes, Inc., Port Allegany.