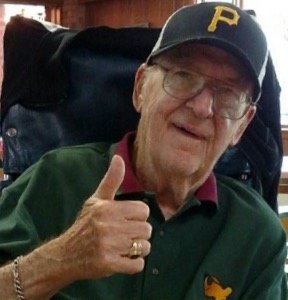 In Memory of
Wayne K. "Bonner" Mader
1927 - 2017
Obituary of Wayne Mader
Smethport- Wayne Keller "Bonner" Mader, 90, of Sena Kean Manor, Smethport, formerly of Scotland PA, died Saturday afternoon, September 9, 2017, after a long illness. He was born on July 12, 1927, the son of Orie and Jean Keller Mader of Ridgway, PA. He died on his mother's birthday. On December 29, 1950, he married Joan Doris "Jone" Willson, of Smethport.
Bonner was a star football and basketball player at Ridgway High School, but left school early his senior year to join the U.S. Navy. He received his high school diploma in absentia in May 1945, with eight of his other classmates who also joined the services before graduation. He enlisted in March 1945, and entered into active service on May 18, 1945.
Bonner served in various theaters of war, including in the Philippines, and was stationed in San Diego, Long Island and the Great Lakes. He served on various ships, including the USS ABSD-1, of which he was especially proud. He received the American Theatre Medal, the Victory Medal, the Asiatic Pacific Theatre Medal, the Presidential Unit Citation Ribbon and Letter of Commendation. He was discharged in August 1946. He immediately joined the Naval Reserves, but was never called to active duty. He was discharged from the Reserves on August 13, 1954.
Bonner attended what was then Clarion State Teachers College on the G.I. Bill, where he again excelled in football, baseball, and was president of his class, graduating in 1951. He taught school and coached football in the Smethport Area School District from 1952 to 1957. He and his wife then taught in Fort Myers, Florida, for one year, but returned to Pennsylvania in 1959 when Bonner was hired to teach at the Scotland School for Veterans' Children in Scotland, PA. He obtained a Master's Degree in Social Studies at Shippensburg University in 1966, and taught driver's education and coached football and basketball at Scotland School and was the Head Coach of baseball for many years at the school. He retired in 1986. He took great pleasure in attending the State Championship football game between Smethport High and the team from the Scotland School in 1992, which Scotland won 24 to 7.
Bonner enjoyed sports all his life and was an enthusiastic supporter of the Pittsburgh Steelers and the Pirates. For many years, Bonner and his wife spent a good part of the winter in Bradenton, Florida, watching the Pirates' spring training games. They also greatly enjoyed spending summers at the Willson family cottages at Canandaigua Lake and boating at Raystown in Pennsylvania.
Bonner was a member of the Elks Club #600, the Burt Aspen Legion #46, the V.F.W. #1599, the Chambersburg Club, Tall Cedars, and the Masonic Lodge.
He is survived by his wife of nearly 67 years, Jone Willson Mader, and his children, Melissa M. Schmitzer and her partner Frank Myers of Gibsonia, PA, and Robert Franklin Willson "Pete" Mader and his wife, Julie A. Mader of Smethport. He is also survived by four beloved granddaughters: Kelsey Jean Mader and her partner Jordan Farrow, Emma Willson Mader, Renee Brooke Schmitzer and Marie Nicole Schmitzer, as well as sisters-in-law, Deborah Willson Babcox and Louise Dahlquist Mader, and many nieces and nephews. Bonner was predeceased by his parents and a brother, Keith Allen Mader, who died in January, 2016, also at age 90 years.
There will be no visitation. A memorial celebration of Bonner's life will be held later at the convenience of the family.
Memorial contributions may be made to the Hamlin Memorial Library, P.O. Box 422, Smethport, PA 16749, the Smethport Area School District Foundation, 414 S. Mechanic St., Smethport, PA 16749, or a charity of the donor's choice. Online condolences may be made at www.hartle-tarboxfuneralhomes.com.
Arrangements are under the direction of the Hartle-Tarbox Funeral Homes, Inc., Smethport.
Share Your Memory of
Wayne