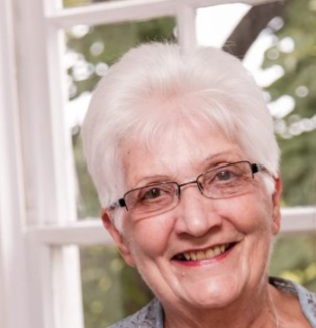 Obituary of Joan M. Washburn
Smethport--Joan (Pais) Washburn passed away on November 9, 2021, joining her beloved husband, Bruce, in heaven.
She was born and lived most of her life in Bradford, PA, part of a loving Italian-American family raised to appreciate learning, friends, and hard work. After graduating from high school, Joan went to college in Rochester, NY, but her love for her high school sweetheart drew her back home and they married in 1957 and began to raise their own family of five children.
Joan adored her children, expressing this through her warm hugs and her faith in them. She was fearless and persistent when it came to her children, including when she and Bruce went to federal court to ask it to overrule a local judge's decision denying them their child's adoption.
She and Bruce enjoyed wonderful friends in Bradford, including through St. Francis Church and her work for Bradford Regional Medical Center. They continued to see their Bradford friends during their retirement and after they had moved to Smethport, PA, where Joan and Bruce spent years renovating the farmhouse that had been in Bruce's family since the mid-1800s. Joan stenciled, painted, sewed curtains, created gardens, and designed changes to the home—creating the warmth and beauty that made this the place for many family reunions.
Her siblings, family, and friends from Smethport and Bradford provided steadfast support for Joan after Bruce's death in 2011. Joan had the love of friends from St. Elizabeth of Hungary Church, her bridge club, and the Hamlin Library where she served on the Board of Directors.
During a recent day spent at her daughter and son-in-law's house, Joan said she was happy and blessed. She said she had wonderful grandchildren and great grandchildren and that she felt at home with her friends and the staff at the Lakes at Jefferson. This is how her family will remember her: smiling, happy, and grateful for a good life.
Joan is survived by her children, Andrew Washburn (Kathy), Karl Washburn (Cheri), Sarah von Staden (Fred) and Natalie Shipton (Ben); her grandchildren, Maureen Washburn (Gokul), Bennett Washburn, Spencer Washburn (Kalli), Halley Washburn, Curtis Washburn (Danielle), Samantha von Staden, Jacqueline von Staden, Patrick Shipton, Kaitlyn Jurgens (Matt), Elaine Shipton; her great grandchildren, Henry Dhingra and Reed Washburn; her siblings, Delores Confer, William Pais, Arlene Pais, and June Stouffer; and many nieces and nephews.
She is predeceased by her husband, Bruce Washburn, her son, Eric Washburn (Cathy), and her grandson, Alex von Staden.
Visitation will be held on Saturday, Nov. 13 from 10-10:45 AM at St. Elizabeth Catholic Church, Smethport, where a Mass of Christian Burial will be held at 11 AM with the Rev. Vincent Cieslewicz, pastor, officiating.
The family requests that, to honor Joan's joyful and vibrant personality, you do a dance, read a book, or hug a child. Memorial contributions to St. Elizabeth of Hungary Church or Hamlin Library would also greatly please her.
Arrangements are under the direction of the Hartle-Tarbox Funeral Homes, Inc., Smethport.
Visitation
10:00 am - 10:45 am
Saturday, November 13, 2021
St. Elizabeth Church
Main St.
Smethport, Pennsylvania, United States
Mass of Christian Burial
11:00 am
Saturday, November 13, 2021
St. Elizabeth Church
Main St.
Smethport, Pennsylvania, United States
Share Your Memory of
Joan