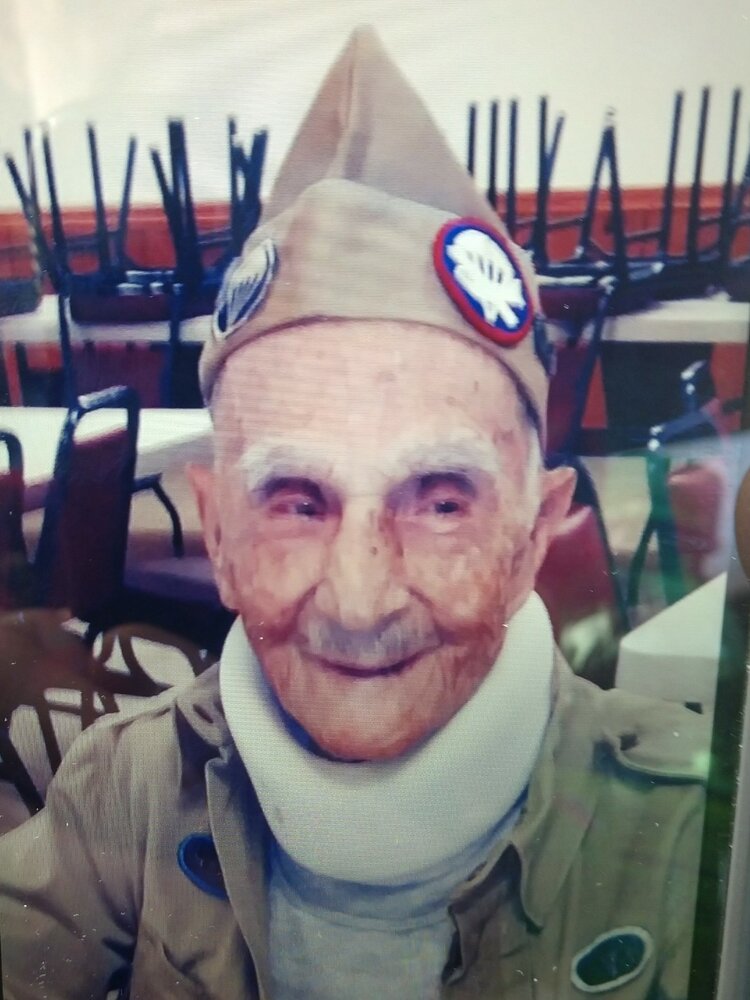 Obituary of Chester John Tanner, Sr.
Smethport - Chester John Tanner, Sr., at the resilient age of 99.9, passed peacefully with his family by his side on Tuesday, January 11, 2022.
Chester was born February 11, 1922, to John Frank and Neva Kemp Tanner in Lynch Hollow, Ceres, PA.
Chester proudly served his country enlisting on October 24, 1942. He was a World War II veteran, serving as a member of the 82nd Airborne, 542nd Regiment. Upon his Honorable Discharge, after becoming a Commader of the Legion, he initiated the area chapter of the Disabled American Veterans.
Chester then went on to continue his legacy, purchasing a homestead of his own in Coryville, PA in 1946. He married Viola Louise Victor (Watson) on February 24, 1945 and they went on to raise their seven children on Tanner Road, where he was able to live out his remaining 75 years. Upon the death of his beloved Viola in 1974, he met his second wife and close friend, Eileen Eaton. They were married on October 16, 1976. Eileen passed away in 2009.
Chester was a devoted husband, father and grandfather, who loved his family and was always there for them. His determination to work hard was shown through his years in the military service, his labor in the oil fields and his career at the Kendall Refinery where he retired from after 38 years of employment. He was an avid farmer, even throughout his last days. He was a member of the Masonic Lodge, a proud and patriotic veteran always committed to supporting the Eldred American Legion, where he had historically served as Legion Commander. He also served 50 years as an Eldred Borough Volunteer Fireman. Chester gave his all to his country, his community and his cherished family. If you didn't find him working in his garden, you could find him with his best buddy Shane. He fought a great battle and has now won the war.
He is survived by his children, Susan (James) Ludwig, Sally (George) Stiebinger, Chester "Shay" (Sally) Tanner, II, Chris (Robert) Butters; step children, Connie (Norm) King, Gary (Carol) Eaton, and Sandra (Henry) Geyer; his siblings, Maribelle (Gary) Dunn, Norman (Barbara) Tanner; 27 grandchildren, 49 great grandchildren, and 23 great-great grandchildren, nieces and nephews.
In addition to his parents and wives, he was preceded in death by children, Viola "Pudge" Menefee, Mike (Charlene) Tanner, and James Watson; four grandchildren, Julie Ludwig Smith, Lisa Honey Tanner, Todd Lathrop, step grandson, Joel King; brothers, Roy Tanner, John Tanner, Sylvester Tanner, Stephen Tanner, Carl Tanner, Nelson Tanner, James Tanner, and Ward Tanner.
Due to COVID-19, and for the safety of the community Chester loved, visitation and services will be held privately with family and close friends from 3-5 PM Saturday (Jan. 15, 2022) at Hartle-Tarbox Funeral Homes, Inc., Smethport, where funeral services will begin at 5 PM, with the Rev. Max Simms, pastor of the Hilltop Baptist Church, officiating. Burial will be Sunday at 1 PM in The Honey Bee Memorial Cemetery, where committal will be held by Rev. Roy Menefee, along with Military Honors.
In lieu of flowers, memorials may be made to Futures Rehabilitation Center, (www.futuresinc.net),
One Futures Way, Bradford, PA 16701, or to a charity of the donor's choice. Online condolences may be made at www.hartle-tarboxfuneralhomes.com.
Arrangements are under the direction of the Hartle-Tarbox Funeral Homes, Inc., Smethport.
»(Do not delete this line. It does not print. Text that is to appear on web must be entered before this line)
Share Your Memory of
Chester