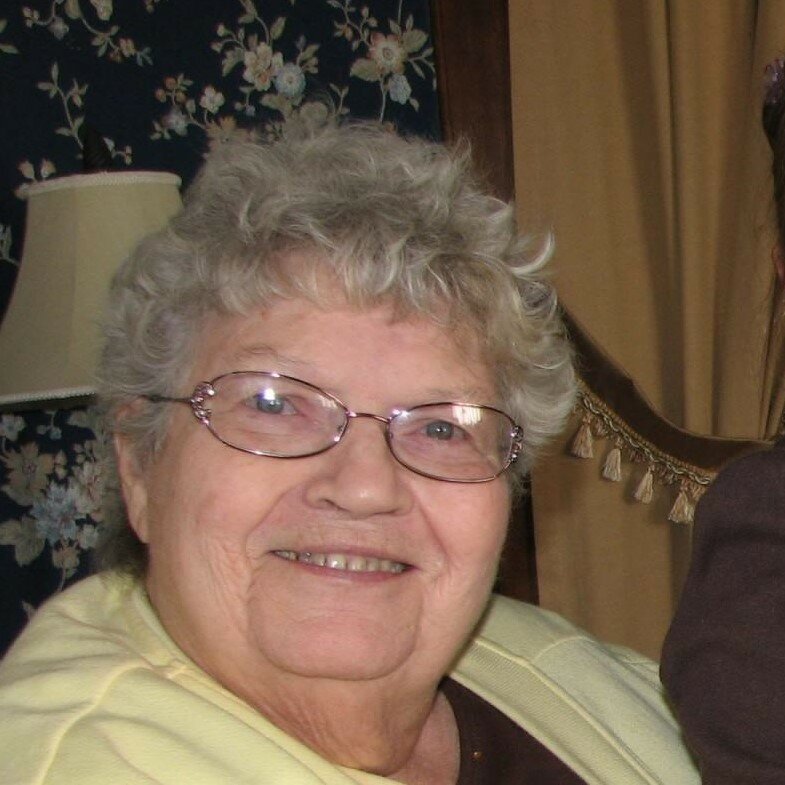 Obituary of Patricia F. McAnallen
Smethport - Patricia Faye Smith-McAnallen, 91, Smethport, PA, passed away peacefully on Monday December 19, 2022, at UPMC-Cole, Coudersport surrounded by her family.
She was born November 8, 1931, daughter of the late Robert and Marion (Van Sickle) Smith. On December 26, 1951, in St. Elizabeth of Hungary Parish, Smethport, she married John Arthur McAnallen, who passed away on August 31, 2022. They lived their entire lives in Smethport and celebrated their 70th wedding anniversary last year.
Patricia was a 1949 graduate of Smethport High School and prior to her first born, was employed at Smethport Market Basket.
She was an active and well-known member in the St. Elizabeth of Hungary community as a member of St. Elizabeth Rosary Confraternity of Christian Mothers, Chairperson for the church bazaar and member of St. Elizabeth's Church Women's Club. She was also a former member of the Memorial Recreation Center, the Smethport Garden Club, and Girl Scouts of America leader.
Patricia was a loving and devoted mother with world renowned patience, as she successfully raised seven children, She was surrounded by numerous families with stay-at-home mothers while living on King Street. It may have been the most populous area of town at the time, and it wasn't uncommon for her children and others, to be out of the house the entire day. She made lifelong friendships with those wonderful women and their families.
Patricia was immensely proud of her family and attended many sporting, choral and graduation events. She especially loved her role of Nana or Gram to her nine grandchildren and three great-grandchildren. She supported them in their sacraments, school and sport fundraisers, and as a loving advisor.
She loved sewing, quilting, knitting, gardening, reading (she had numerous Kindles) and often spent hours on the phone with her family.
Patricia is survived by three daughters, Carolyn Kay James of Smethport, PA, Sandra Lee (Terry) Morris of Martin, GA, Mary Beth (Robert) Bidlack of Sayre, PA, and Polly Marie (Ronald) Fiegl of Chambersburg, PA; three sons, David Bruce McAnallen of Pittsburgh, PA, Phillip Stephen (Nancy) McAnallen of Lake Helen, FL, Charles McAnallen of Littleton, CO.
Grandchildren: Matthew Sicheri, Beth Marie Wilson, Lucas V. Rees, Ashley McAnallen, Alexandrea Bidlack, Jonathan Bidlack, Grace Fiegl, Jack Fiegl, Bryce Fiegl and great grandchildren Lily Wilson, Evelyn Rees, Olivia Rees, Jeffery Bonner.
One sister Phillis Jean Barnhart, one brother Michael L. Smith.
And several nieces and nephews.
Besides her husband, she was preceded in death by her parents Robert and Marian (Van Sickle) Smith, one sister Barbara Smith, and brothers Robert Smith and Rodger Smith.
A memorial mass will be held January 28, at 10:00 AM in St. Elizabeth of Hungary Parish, Smethport with a luncheon and Celebration of Life to follow.
Memorials may be made to St. Elizabeth of Hungary Parish Building Fund or Smethport Food Bank. Please feel free to share your memories at www.hartle-tarboxfuneralhomes.com.
Arrangements are under the direction of the Hartle-Tarbox Funeral Homes, Inc., of Smethport.
Share Your Memory of
Patricia