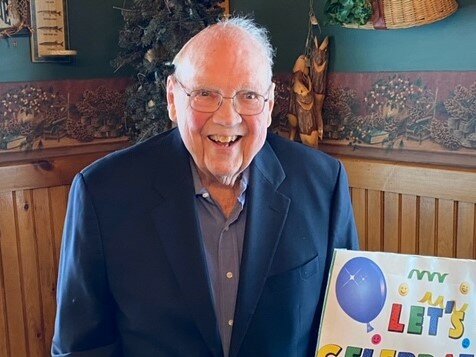 Obituary of Wayne Ettinger Pearson
Smethport---Wayne E. Pearson, 95, of Smethport, PA, passed away on April 7, 2023. Born January 17, 1928 in Royersford, Pa., he was the son of John Wanner Pearson and Wilhelmina Ettinger Pearson. He is survived by his wife of 42 years, Mary Lee Smith Hamilton Pearson.
A 1946 graduate of Royersford High School, Wayne graduated from Ursinus College in 1950 with a BS in chemistry and from the University of Delaware in 1951 with an M.S. degree in physical chemistry. Following his graduation, Wayne joined E.I. DuPont du Nemours in Wilmington, De., eventually rising to Director of Marketing for DuPont's worldwide polyethylene polymer business.
For 10 years following his retirement from DuPont, Wayne served as Executive Director of the Plastics Recycling Foundation. He became a worldwide spokesperson for the Foundation and published several chapters in books on plastics recycling and solid waste management.
Wayne and his wife Mary Lee eventually retired in Smethport on the Smith family homestead. He was active in church and community organizations and events including: Board Member, Plastics Recycling Division, Society of Plastics Engineers; President of the Unitarian Church, Wilmington; Chair of Smethport's Sesquicentennial Committee; Chair, Smethport Heritage Committee; Board Member, Allegheny National Forest Vacation Bureau; President, Amherst Dance Club, Buffalo, NY; President, Ball and Chain Dance Club, Bradford; and President of the Smethport Area Chamber of Commerce. Wayne has written letters to editor in the Bradford Era and the Olean Times Herald.
In addition to his wife, Mary Lee, he is survived by his two sons, Steven W. Pearson, M.D., (Susan) and Eric A. Pearson, both of Santa Barbara, Ca., and daughter Carol P. Schadelbauer (Richard) of Arlington, Va.; two stepsons, David Hamilton of Severna Park, Md., and John Hamilton (Lois), of Portsmouth, RI.; grandchildren Brian Pearson (Caitlin), Lyndsay Pearson Beall (Ryan), Kara Pearson, Christine Pearson, Alec Schadelbauer and Evan Schadelbauer; step grandchildren Julianne Hamilton (Michael), Southworth Hamilton, Alyssa Hamilton and Elizabeth Hamilton; and great grandchildren Avery and Charlotte Beall.
In addition to his parents, he is preceded in death by his first wife Joyce Ziegler Pearson, M.D., and his brothers John Wanner Pearson and James Willard Pearson.
A memorial is planned at a later date and will be announced.
Memorial contributions, if desired, may be made to the organization of your choice. Online condolences may be made at www.hartle-tarboxfuneralhomes.com.
Arrangements are under the direction of the Hartle-Tarbox Funeral Homes, Inc., Smethport.
Share Your Memory of
Wayne