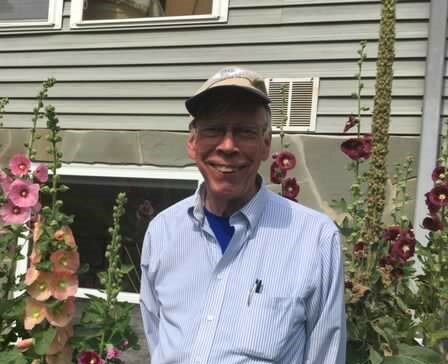 Obituary of Kent K. Smith
Smethport--On March 10, 1939, Lena Southworth Smith and Worth Smith, welcomed their fourth, and last child into their home. They named him Kent.
He grew up with his two older brothers and older sister on the homestead in Smethport, Pennsylvania. As a boy, Kent helped with the
many chores around the farm, and also at his father's store, the Worth W. Smith Hardware. Here, he first heard one of his favorite
quotes, "Flush twice, it's a long way to Washington."

A bright student, in High School Kent enjoyed all of his classes with the exception of Latin, saying he would have preferred to learn a
"living" language. Kent graduated Valedictorian at Smethport High School in 1957. Encouragement from a cousin led Kent to pursue the
pre-med degree from Penn State, where he graduated in 1961. He then attended Jefferson Medical College in Philadelphia, PA, and graduated
with his degree in medicine in 1965. It was while attending med school that Kent met the love of his life, Miriam "Mimi" Lucas, at a
bar called "Dirty Franks". She was a talented artist. They married in Medford Lakes, NJ, June 6, 1964 and had two
children, Kent Worth and Christie Lynn Wallis "Walt".

After Jefferson, Kent completed an Internship at Polyclinic Hospital in Harrisburg, PA.. In 1966, he was drafted and sent to Lackland Air
Force base in San Antonio, TX, and then to Howard Air Force Base Panama City, Panama a few months later. He underwent six weeks of
jungle survival school as part of his training in Panama. He held the rank of Captain and was a Flight Surgeon. Kent was in the Air Force four years, until 1970. While living in Panama, he was thrilled to learn the "living" language of Spanish, which he was able to speak for the rest of his life, long after leaving Panama,
something he was proud of.

Upon returning to the States, to Cherry Hill, NJ in 1970, Kent continued a Residency in Radiology for three years at Philadelphia General Hospital (PGH). In 1974, he started working, splitting his time between the Radiology Departments at both Burlington County Memorial Hospital and Southern Ocean County Hospital. He became Chief of the Nuclear Medicine Department. Kent worked there until retirement in 1999.
Kent was a member of the Radiological Society of North America, and The American College of Radiology. For 25 years, he was the chairman of the Radiation Safety Committee. It was during this time that Kent started to say, "Youth is wasted on the young."

Kent set about the goal of creating memories for his family. He would read about something of interest in the paper – perhaps the mention of a fossil hunting location, or a nearby place to go, like Longwood Gardens, and take the family there that weekend. An exhibit of model train sets? They were there. The Franklin Institute with its
dinosaur bones? They made the trip, and then picked up hot pretzels with mustard for the ride home. Trips to the shore in the summer, and to Mimi's parent's house so the kids could spend time with their Nana and PopPop, with an ice cream treat on the car ride home. Once or twice a year, he would take the family on the long trip back to
Smethport, PA, to see his parents, to the old farm. Sometimes they would pick Northern Spy apples on the farm.

It was also during this time that Kent wanted to travel the world with his family. He drove a modest car – a Honda Civic, while his coworkers drove Mercedes and BMW's. This allowed him to take his family on trips to places like Mexico, Central and South America, the British Isles, and later Greece and Turkey. In all, he brought his
family to 15 countries and 21 states. Even now, the average American has only been to 8 states. After his children were grown, he and Mimi continued traveling. He traveled to 24 countries on 3 continents, as well as 47 states.

In 2004, Kent and Mimi moved back to Smethport, just down the road from where Kent had grown up. In his retirement, he enjoyed gardening, particularly flower gardens; watching baseball games with Mimi, and honing his cooking skills. He made the best pumpkin pie from scratch that anyone ever tasted! He discovered a passion for pickling
and putting up vegetables, and he won many Blue Ribbons at the McKean County Fair over the years. He had an almost insatiable desire for knowledge, and he and Mimi would spend hours watching educational videos on all subjects from the history of the Trojan War, to the development of language, to color theory. He became a member of the McKean County Historical Society, the American Legion, and President of the Fairmont Cemetery Association.
Kent is survived by son, Kent W (Caroline) Smith, daughter, C. Wallis "Walt" Davenport, granddaughter, Liv Davenport, sister Mary Lee Pearson, brother, Dale (Cindy) Smith, many cousins, and nieces and nephews. He leaves a legacy of generosity and kindness. He will be missed. He would often say the following quote in times of trouble of difficulty, "We are all in the gutter, but some of us are looking at the stars."
A memorial service for Kent will be held on November 4, 2023 at 11 AM in the Hartle-Tarbox Funeral Homes, Inc., 2 Bank St., Smethport, with the Rev. Frank Eppley, officiating.
Memorials, if desired, may be made to the Fairmount Cemetery Association, Farmers Valley, PA. Online condolences may be made at www.hartle-tarboxfuneralhomes.com.
Arrangements are under the direction of the Hartle-Tarbox Funeral Homes, Inc., Smethport, PA.
Share Your Memory of
Kent