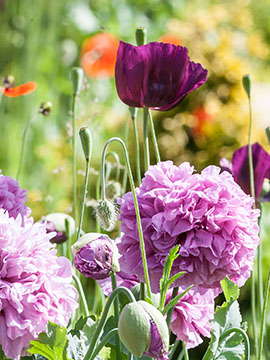 In Memory of
Donald J. Comes
1934 - 2017
Obituary of Donald Comes
Smethport - Donald J. Comes, 82, of Crosby, died Friday (March 31, 2017), surrounded by his loving family.
Don was born at the Safstrom Maternity Hospital by the East Smethport Bridge on St. John the Baptist Day-June 24, 1934. He grew up on the family farm, E.D. Comes Dairy, which provided him with an ideal start to his lifelong passion and career as a horticulturalist.
He graduated from Smethport High School in 1953, joined the Navy and spent four years of active duty finishing up at Pearl Harbor. After the service, he attended Bryant & Stratton for accounting and Alfred State University, where he graduated with a degree in Agricultural and Greenhouse Science. After graduation, he went to work at Cornell University for seven years attaining the position of head gardener at the Baily Conservatory. His next stops included management positions at Old Westbury and the JP Morgan Estate, both in New York, and then Healy Garden Center in Massachusetts. He then moved to Cleveland in 1978 to serve as the resident horticulturalist for the Gwinn Estate Conference Center. In 1989, Don relocated to Connecticut where he consulted for several public gardens and private estates. Always in pursuit of further knowledge of all things botanical, Don travelled to England, Switzerland, Ireland, China and Africa.
Upon retirement, Don moved back to Crosby. A lifelong musical enthusiast and proud of his Swedish heritage, he joined a Swedish choir in Jamestown, NY. He also sang in the United Methodist Church of Smethport Choir, Coudersport Consistory Passion Play and North Country Singers choirs. Active in the Smethport Senior Center, he continually offered his expertise to numerous individuals and organizations. Failure to follow his explicit instructions could result in immediate admonishment. He was a frequent contributor to "Round the Square" and was often sought as a guest lecturer at area garden events.
A prolific genealogist with amazing recall, Don accumulated volumes of information that he loved to share. He would arrive at family gatherings armed with scrapbooks of pictures and accounts of the past.
In 2012, Don donated his 41 acres and house in Crosby to Penn State Extension and the Donald J. Comes Natural Resources Learning Center was created. The purpose of the Center is to provide youth and adults with learning experiences in natural resources and horticulture through hands on and educational programming.
Don belonged to the American Legion; John Berg Post #976 of Crosby, North Central Forest Landowners Association and was a proud lifetime member of The National Grange of the Order of Patrons of Husbandry, and was very involved with 4-H.
He is survived by:
one brother: Harry D. Comes, Jr. of Smethport and several nieces, nephews and cousins.
He was preceded in death by his parents, Harry D. and Hilda Berg Comes, three brothers: Gordon, William and Paul Comes, three sisters: Harriet Burghart, Esther Herriman and Virginia Sayers.
Visitation will be held on Tuesday, April 4, from 10 A.M. to 12 noon at Hartle-Tarbox Funeral Homes, Inc., 2 Bank St., Smethport, where funeral services will be held at noon with the Rev. Rob Hernan, pastor of the United Methodist Church of Smethport, officiating. Burial will be in Norwich Cemetery, Colegrove. Military Honors will be accorded by the American Legion; John Berg Post #976 of Crosby.
Memorials, if desired, may be made at http://extension.psu.edu/mckean/comes-learning-center/giving. Online condolences may be made at www.hartle-tarboxfuneralhomes.com.
Arrangements are under the direction of the Hartle-Tarbox Funeral Homes, Inc., Smethport.