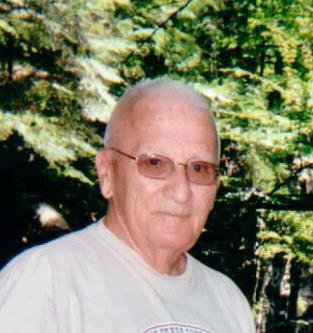 In Memory of
Garvin A. Dille
1927 - 2018
Obituary of Garvin Dille
Smethport - Garvin A. Dille, 91, of Smethport, passed away Wednesday (April 25, 2018) in the Lakeview Healthcare & Rehabilitation Center, Smethport.
He was born March 5, 1927 in Canton, OH, a son of Donald and Ruth McDonald Dille. On April 19, 1974, in the United Methodist Church of Smethport, he married Carolyn Kay Wright, who survives.
Garvin attended Emlenton, PA schools. He quit school to join the U.S. Navy and fight in WWII. He was stationed in the Leyte Gulf, Philippines, site of the amphibious invasion of American forces and Filipino guerrillas who took on the Japanese in October of 1944. Garvin was discharged honorably from the Navy in 1946. He was then called back to service from reserve duty when the Korean Conflict broke out. Garvin was discharged honorably again from the Navy in 1952, attaining the rank of 3rd Class Petty Officer.
Mr. Dille worked for the Sterling Division of Quaker State as a tanker driver for 39 years before retiring in 1987.
Garvin was a former member of the Odd Fellows and was a member of the American Legion; Bucktail Post #138 of Smethport. He had been a member there for over 60 years and held various offices with the Post, including Commander in 1969.
In addition to his wife, he is survived by:
four daughters: Cynthia (Rod) Hartman of Elyria, OH, Bonnie (Steve) Faes of Crosby, Chris (Greg) Thomas of Butte, MT and Deana (Bill) Bickford of East Smethport
one son: Gary (Silvia) Dille of Corpus Christi, TX
stepsons: Michael (Tina) Burford of Crosby and Jim (Ron Sperry) Burford of San Diego, CA.
ten grandchildren, five step-grandchildren, and fifteen great-grandchildren, and several nieces and nephews.
In addition to his parents, he was preceded in death by two young daughters, Karen and Donna Dille, an infant brother, and one stepson, Scott Burford.
Visitation will be held on Tuesday, May 8th, from 10-11 AM, followed by a celebration of Garvin's life at 11 A.M. in the Hartle-Tarbox Funeral Homes, Inc., Smethport. Burial will be in the Rose Hill Cemetery, Smethport. Military honors will be accorded by the American Legion; Bucktail Post #138 of Smethport.
Memorials may be made to a charity of the donor's choice. Online condolences may be made at www.hartle-tarboxfuneralhomes.com.
Arrangements are under the direction of the Hartle-Tarbox Funeral Homes, Inc., Smethport.